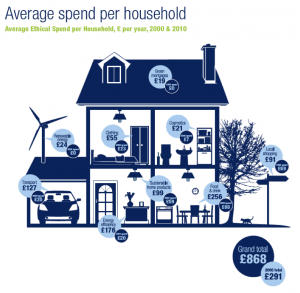 The Ethical Consumerism Report 2010 was produced by The Co-operative Group, which has tracked shopping trends in the United Kingdom for more than a decade, found that, "despite the economic downturn, sales of ethical goods and services have remained resilient, going up almost 9% last year from £43bn to £46.8bn. Acting as a barometer of green spending since 1999 when annual ethical sales were just £13.5bn."
In 2010, expenditure on ethical food and drink increased 5.1% to reach £6.6bn as compared to 2009. Fair trade food sales grew by 36% to reach £1.02bn, while sales of fish from sustainable sources grew 16.3%. Sales of small scale micro-generation increased a massive 386% from £51m to £248m, green car sales were up 129% from £370m to £846m, expenditure on green funerals increased 34% from £5.1m to £6.9m.
Investments in ethical savings and investments grew 9.3% from £19.3bn to £21.1bn year on year. This included the emergence of peer-to-peer lending, whereby individuals can lend direct to micro-entrepreneurs in the developing world.
Consumers spent £1.9bn on ethical personal products in 2010. This included £528m on cruelty-free cosmetics and £171m on ethical clothing. Sales of ethical cosmetics has grown from £175 in 2010 to £528m in 2010, an increase of over 200%.
Not all ethical expenditure increased. Sales of organic food, unlike trends in the US where growth is still robust, were down 10% year on year at £1.53bn, which means it has decreased 23% since its peak of £1.99bn in 2008.
Source: The Ethical Consumerism Report 2010 was produced by The Co-operative Group, with additional research by the Ethical Consumer Research Association (ECRA).