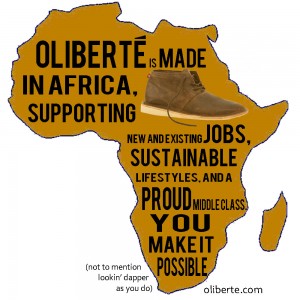 TOMS Shoes has taken no shortage of heat for the lack of sustainability of its business model.
As Cheryl Davenport writes in her Fast Company story, "The Toms buy-one-give-one model does not actually solve a social problem. An increasing number of foreign aid practitioners and agencies are recognizing that charitable gifts from abroad can distort developing markets and undermine local businesses by creating an entirely unsustainable aid-based economy. By undercutting local prices, Western donations often hurt the farmers, workers, traders, and sellers whose success is critical to lifting entire communities out of poverty. That means every free shoe donated actually works against the long-term development goals of the communities we are trying to help."
And that's only one of the problems with the "buy-one-give-one-free" business model.
There is a company —in Africa—that makes footwear the right way. Oliberté believes that with the right local partners, each country within Africa has the means to grow and support its own people. Oliberté partners with factories, suppliers, farmers and workers to produce premium footwear in Africa, but they do more than that. They create fair jobs, with the goal of contributing to the development of a thriving middle class.
One of Oliberté's goals is to build a world-class footwear brand that can create thousands of jobs and encourages manufacturers from other industries to work in Africa. Currently, Oliberté operates in Ethiopia, Liberia and Kenya with the goal of expanding to Cameroon, Congo, Uganda and Zambia in the coming years.
When Oliberté made the decision to work in Africa, they knew they would face numerous challenges, so they made sure to maintain their focus on ethical practices and they carefully select each of their partner factories based on what they call the "play fair" factor. They monitor factories to ensure that they comply with Oliberté's standards. At all factories, women comprise approximately 50 percent of the workforce, including junior and senior administrative positions. All partner factories must exceed local labor standards, and workers are provided current benefits like subsidized or free lunches and tea breaks; and women are provided job security with maternity leave.
Check out what they're up to here.